In Japanese the traditional cuisine is called Washoku 和食とは.  It roughly translates to harmony (or Japan) with/ in food.  The traditional cuisine is based on rice and miso soup with other ingredients and side dishes.  Side dishes often consist of pickled vegetables and broth.  The main dish is almost always a staple food combined with rice.  Given Japan's dedication to nature and celebration of it- it is not surprising that much of Japan's cuisine revolves around the seasons.  Traditional Japanese cuisine is very centered around foods found in Japan.  There is an emphasis on eating seasonally.  Here are some of our favorite traditional Japanese dishes that everyone should try!
1. Sushi
Sushi is the traditional dish of pressed rice marinated with vinegar and raw fish.  In the West (particularly in the US) there has been a new wave of sushi that is more decorated than the sushi in Japan as it has significantly more ingredients.  Most sushi restaurants in Japan stick to the original fish on rice combination, which is still absolutely delicious.
2. Sashimi
Similar to sushi, sashimi involves raw fish, but it is not served with rice. Sashimi is simply fresh fish sliced and served.  The high quality of the fish is what makes this dish great.
3. Unagi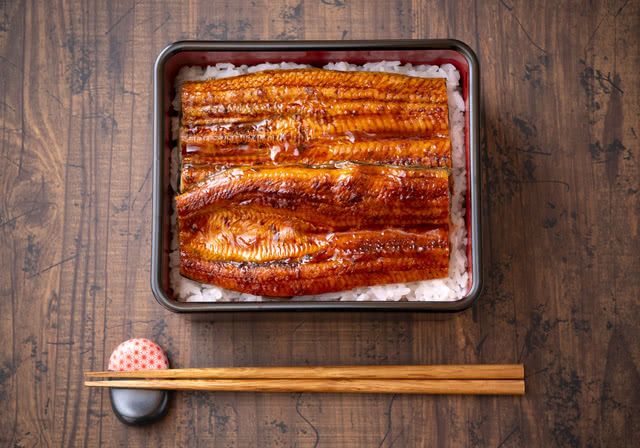 Unagi is the Japanese word for fresh water eel and is a common delicacy in Japan. It is usually served with a special sauce containing soy sauce, mirin, and sugar.  Often it is served on skewers or with white rice. 
4. Tempura 
Tempura is a traditional Japanese dish that consists of fish, meat, or vegetables that have been battered and deep fried.  It is usually served with a special dipping sauce or over soba noodles.
5. Soba
Soba is a thinly sliced noodle made from buckwheat.  It is made with buckwheat flour, water, and flour.  It is a dish that can be served hot or cold making it ideal for all seasons.
6. Onigiri
Onigiri is made when white rice is formed into the shape of a ball.  It is often wrapped in nori (dry edible seaweed) and traditionally has pickled ume and salmon (or other salty and sour food combinations) at its core.
7. Sukiyaki
Sukiyaki is a traditional Japanese dish made with beef and vegetables cooked in the nabemono (one pot) style.  The meat and vegetables are slowly cooked in a shallow iron pot with salt, soy sauce, sugar, and mirin.  The traditional meat used is beef which is cut into thin slices for cooking. 
8. Tsukemono Pickles
Tsukemono is simply the Japanese word for pickles.  Tsukemono are extremely important to the Japanese diet and have been around for many years.  In the beginning they were used as a means to preserve food.  All kinds of vegetables can be used for tsukemono but some of the favorites include: daikon (Japanese radish), cucumber, eggplant, carrot, cabbage and ume (plums).
9. Udon
Udon is a thick Japanese noodle that is made with wheat flour. In Japan it is considered a "comfort food".  It is traditionally served with a mild broth and thinly sliced scallions.